Today's episode of my exploration of New Babbage features a rather unusual region - yes, even unusual in terms of a Steampunk City! Its the
Vernian Sea
.
First I was more than a little skeptic about my destination. On the map the sea looks, well - like any other ocean: a plain blue area promising nothing spectacular or even mildly interesting. I soon found out that I was very wrong. Its really worth its name!
Starting my journey from the Babbage Canals on the western shore I decided if the sea has anything interesting to feature, it has to be underwater. So I rezzed Aley's
Nautilus Mini-Sub
. I frankly can't imagine a more suiting submarine for this purpose (even if its "probably not edible" according to its product description).
The Mini-Sub about to depart from the location of my previous New Babbage post: the Babbage Canals.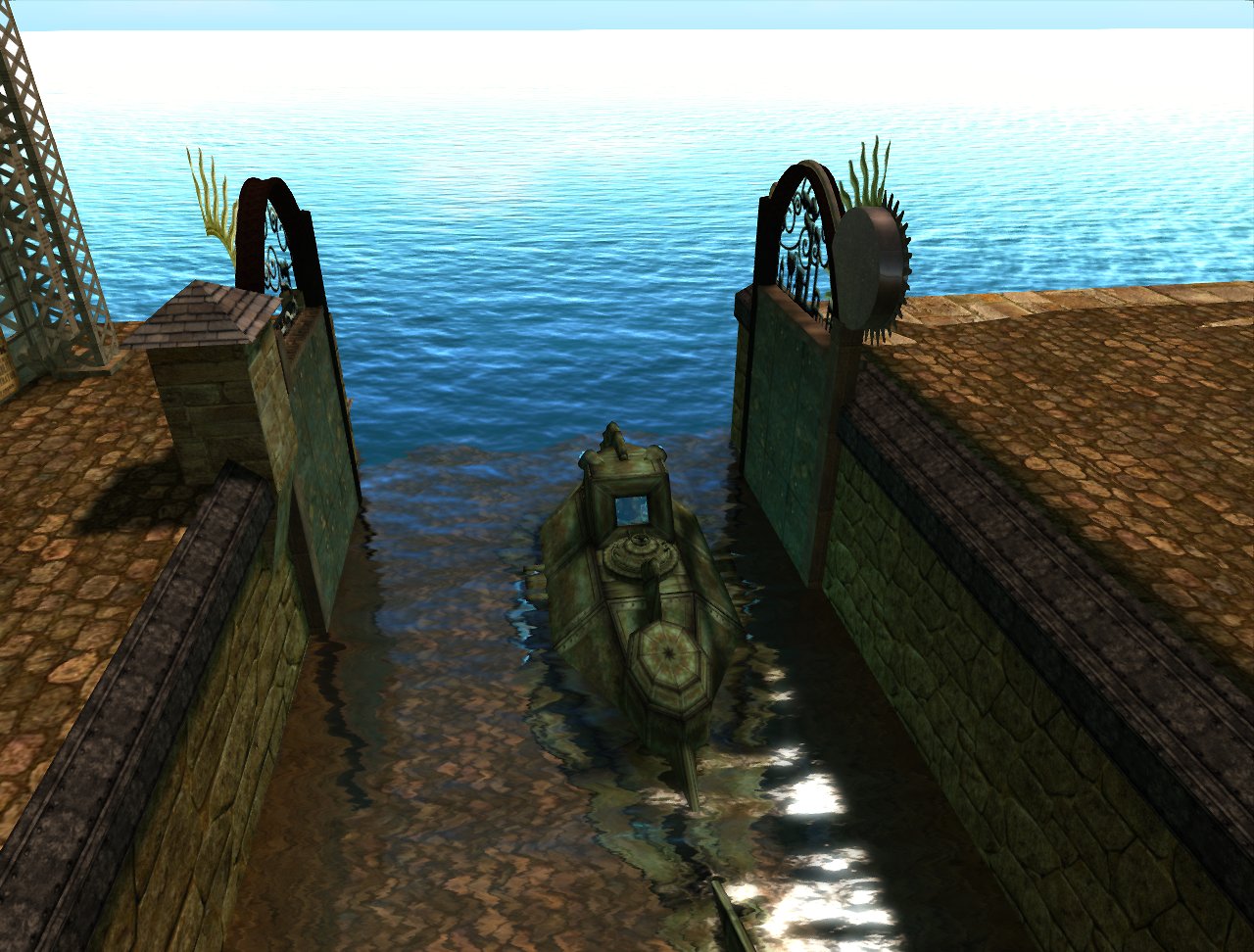 Despite being a highly industrialized area, the waters in the canals are surpringly clear.
And they are just deep enough!
Reaching the open sea, leaving New Babbage behind us.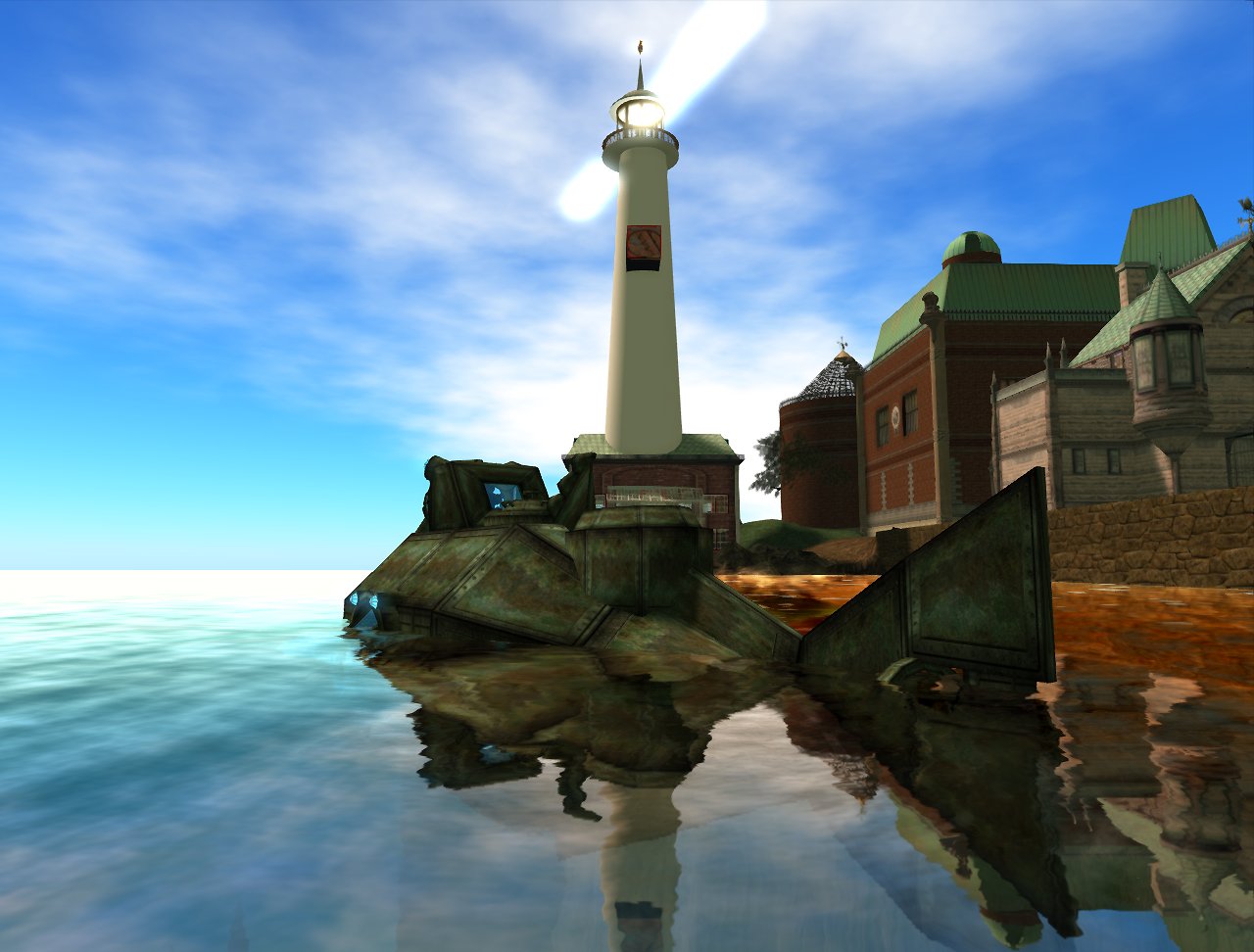 In the south-west of the Sea is a obviously work-in-progress lighthouse.
After passing the lighthouse the bottom of the ocean dropped sharply and your daring Captain got the boat into a dive, exploring the unknown depths of the Vernian Sea.
Captain Some at the wheel!
Did someone said dandy? Our friend and passenger Zen Wickentower.
It is really amazing how efficiently Aley used the little space the submarine has. Nemo could barely have done better.
As the boat sank deeper vague silhouettes began to slowly appear in the distance.
Getting closer they turned out to be a huge underwater station!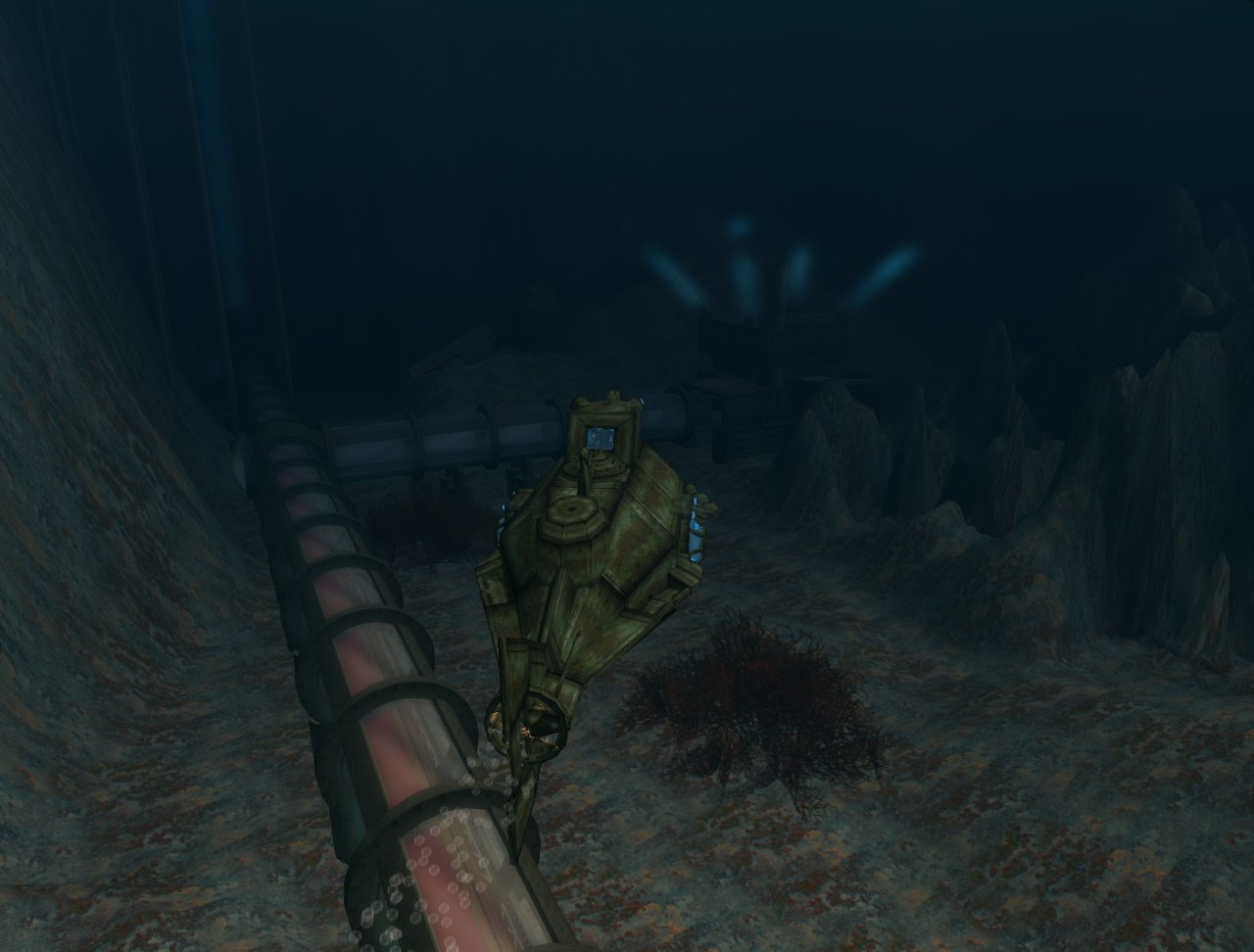 Following one of the endlessly appearing pipes connecting different parts of the building. I wonder what's the meaning of these lights...
Quite Impressive!
Another part of the station appears like a big flower-like structure.
I was steering around this mysterious underwater-station, looking for a porthole or some other sort of entrance, finding more and more amazing components...
This looks quite inviting! I would miss having a balcony though ;-)
We continued our expedition on foot, well on fins too ;-)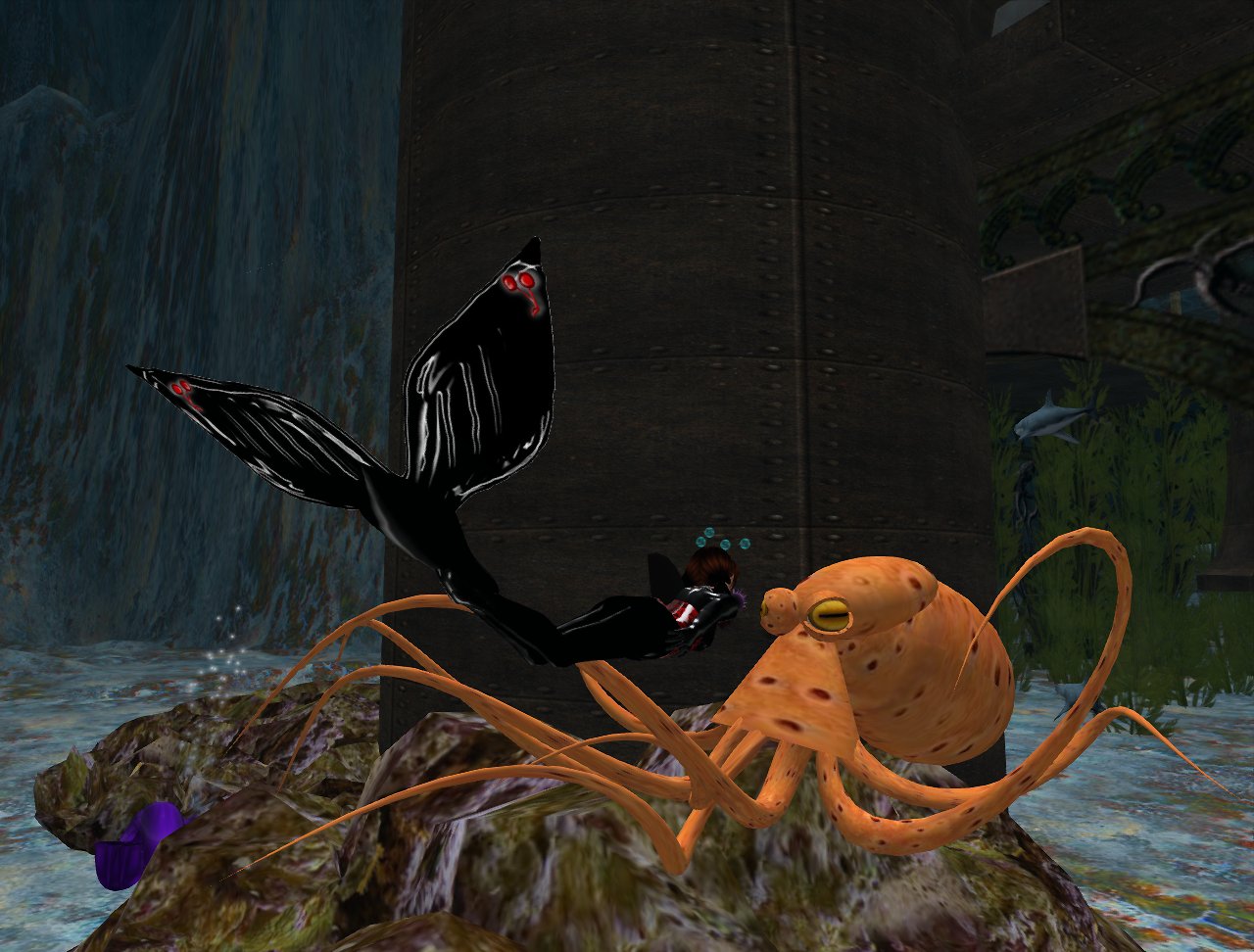 Emma having a chat with one of the locals.
White Zen went for the classical Steampunk diving style and Emma became a Mermaid, I followed the call of fasion and went for a stylish latex bane-diving suit.
I haven't used the helmet for quite a while and accidentally (not "accidentally" as some of you may think!) locked myself in without having the keys... lets call it a "diving accident", ok?
Ok, this is not the best picture I made but it features all members of the Somehow-Underwater-Expedition (no pun intended!).
Zen had to leave us shortly after so we went on exploring on our own.
Having a relaxed time inside the deep-sea station.
British Mermaids love tea of course!
"This must be underwater love..."
After spending some time in the station we did head back to the boat. The oxygen-alert was ringing hard (did I left a vent open?) So Emma had another reason to keep the Suit locked on me.
Reaching the surface and heading towards Port Babbage.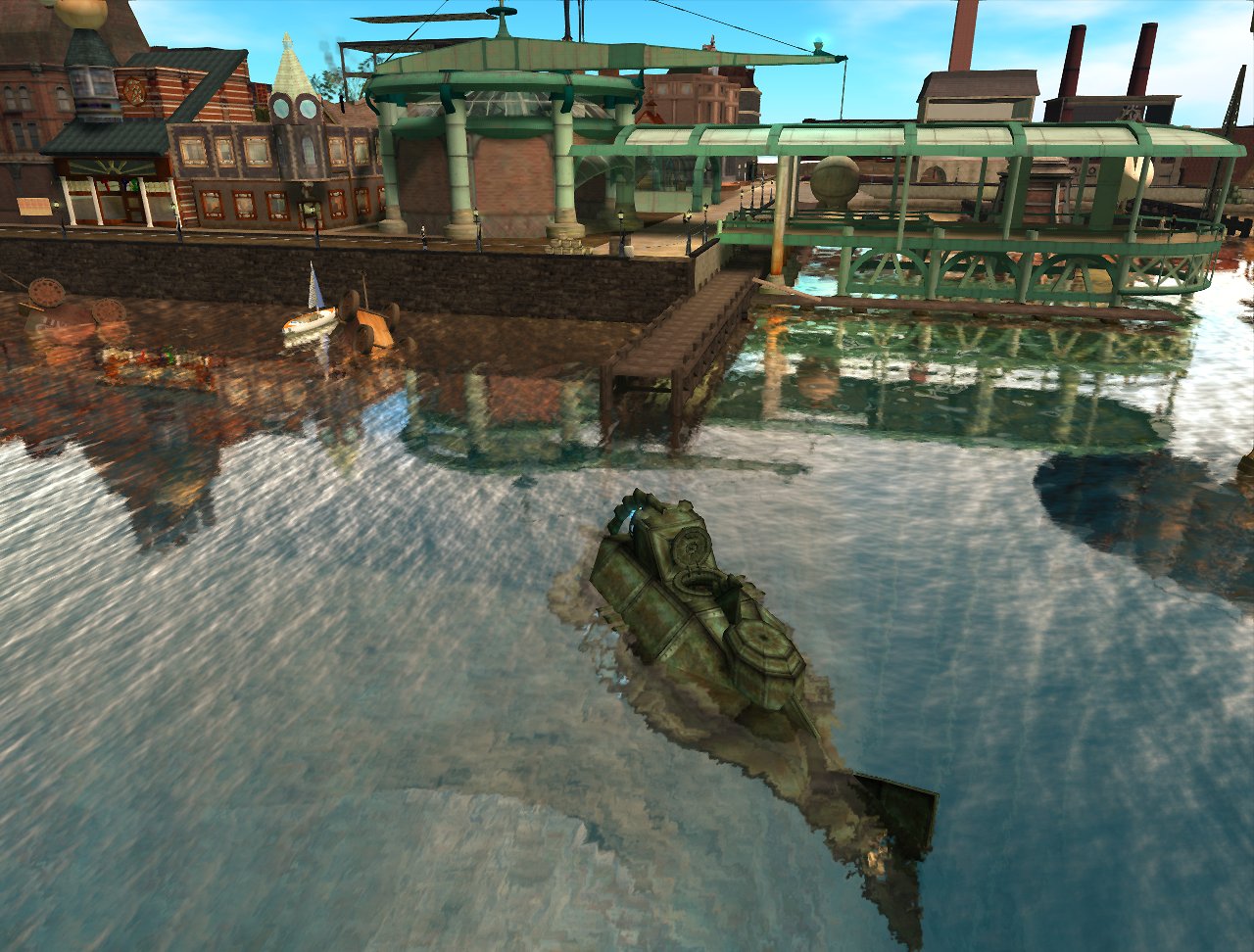 This pier seems to be made for us!
Our arrival being observed by one of New Babbage's Citizens Pilipo Underwood.
We had a very nice conversation which was a suiting ending of our underwater expedition. I can only recommend you to go exploring there too - its really a worthwhile time!