One of the big events in 2013: SL's 10th birthday. I doubt the LL-humans did expect SL lasting that long ;-)
2013 was quite an eventful year for SL and myself too. Things like server-side baking and the long needed improvements in sim-crossing with a vehicle (hello
Blake Sea
) really brought quite significant performance benefits of our favorite virtual world. The only complaint I have is: Dear LL, why didn't they happen already years ago???

It was also the year when meshes had their big breakthrough. You began to see them mushrooming everywhere: as building and landscaping structures, furniture, vehicles, clothes or even full avs - and they just make things look so much better :-) Oh, and I finally became a mesh creator too. But more of that later.
February
After a large rebuilding of Lady Walworth's Estate in Kraizek, my partner Emma proudly opened her new
Sunshine Technologiy Store
there - yay!
March
March saw us participating at the Festival of Steam which was held at several german-speaking sims, like Virtuelles Köln (Virtual Cologne), where we did present my steampunk Airplanes and the brandnew
Prometheus-Class Aircraft carrier
:
@ Virtual Cologne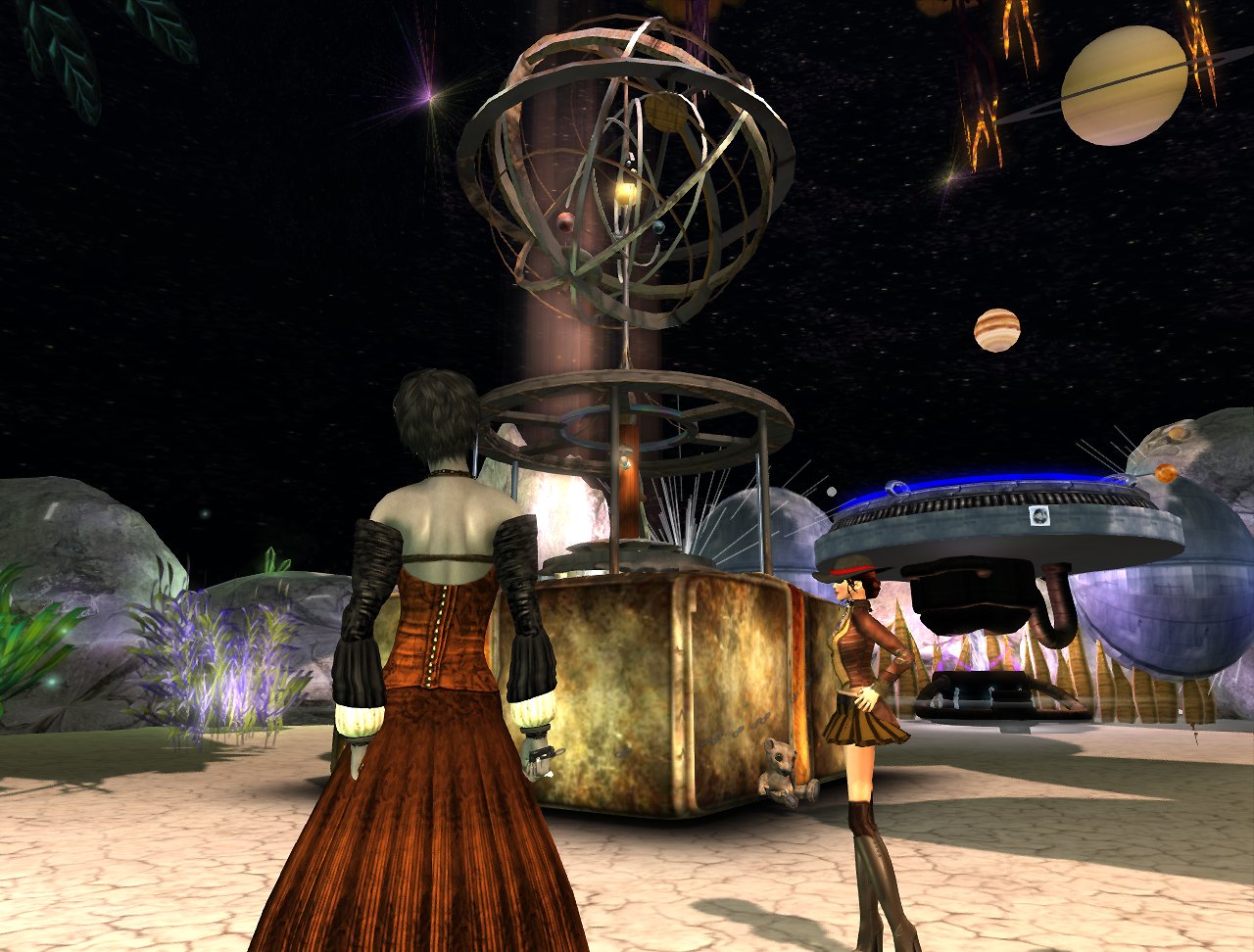 @ The SL Planetarium
It was epic in every regard. Every day interesting and fun events: music, games, exhibitions, presentations and readings - for almost two weeks!! Hats off to its host
Cyhtleen
and chief scientist and tinkerer
Zen Wickentower
who did an awesome job!
Wooooow - Steampunk!
The Expo-grounds with the tower of the Morlock's Revenge-Pub in the center.
One of the many fun events was the squid-tastic game Kraken Polo!
The Prometheus had a prominent role at the Expo too...
I gave it a glass roof for obvious reasons!
...as take-off platform for our exciting airshow:
Oh, and a general remark about steampunk: there can't be too many gears:
Emma in full steampunk - gear!
The big thing in June was SL's 10th birthday, abbreviated as SL10B (you know, using abbreviations make you look like an expert!). A huge event, taking part on more than 20 sims with dozens of different installations. I spent days there taking
photos
.
A look down at the Cake-Stage - which was actually a tree - with a cake on top ;-)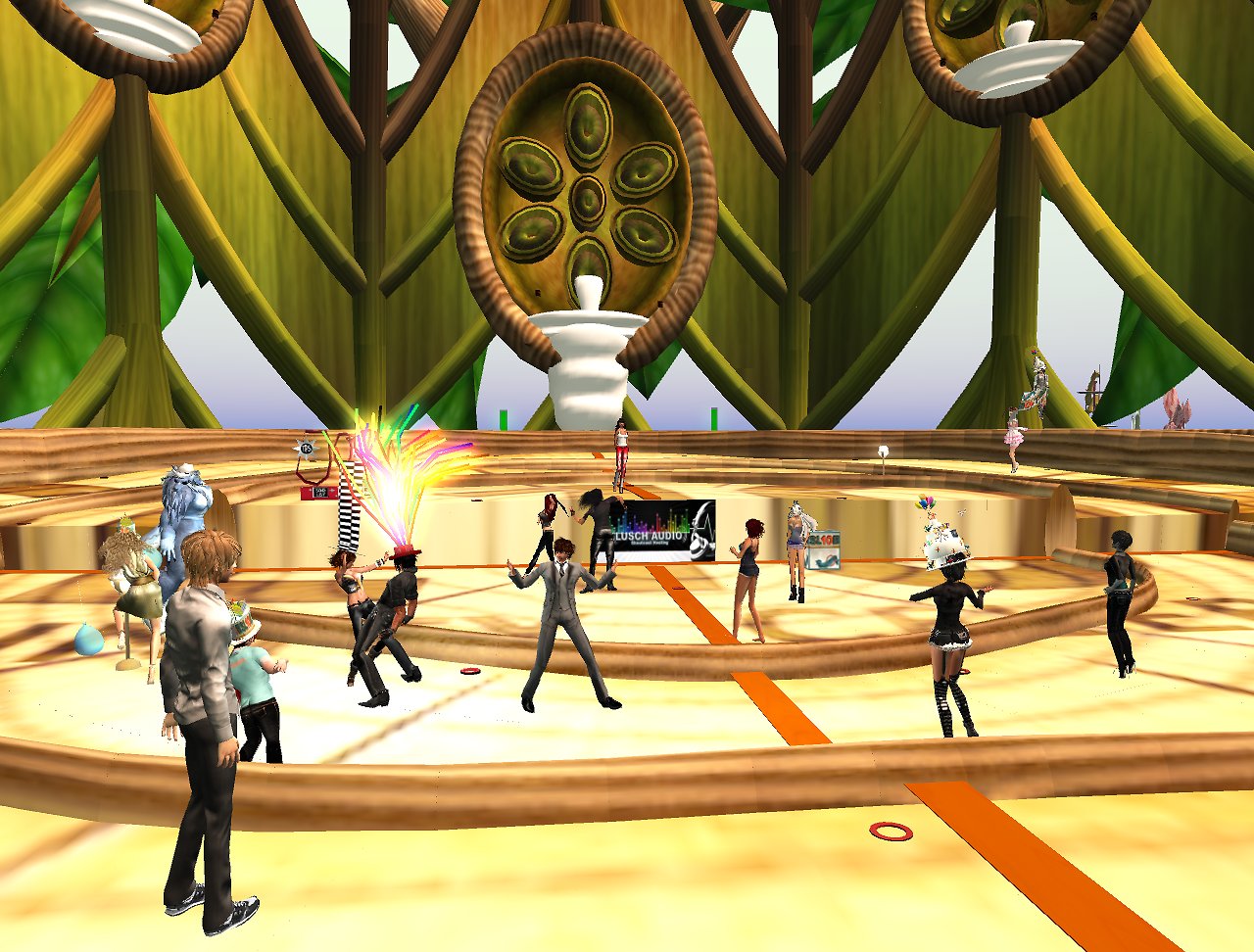 The Cake Stage!
One of the most impressive installations: The Behemoth! It likes bunnys!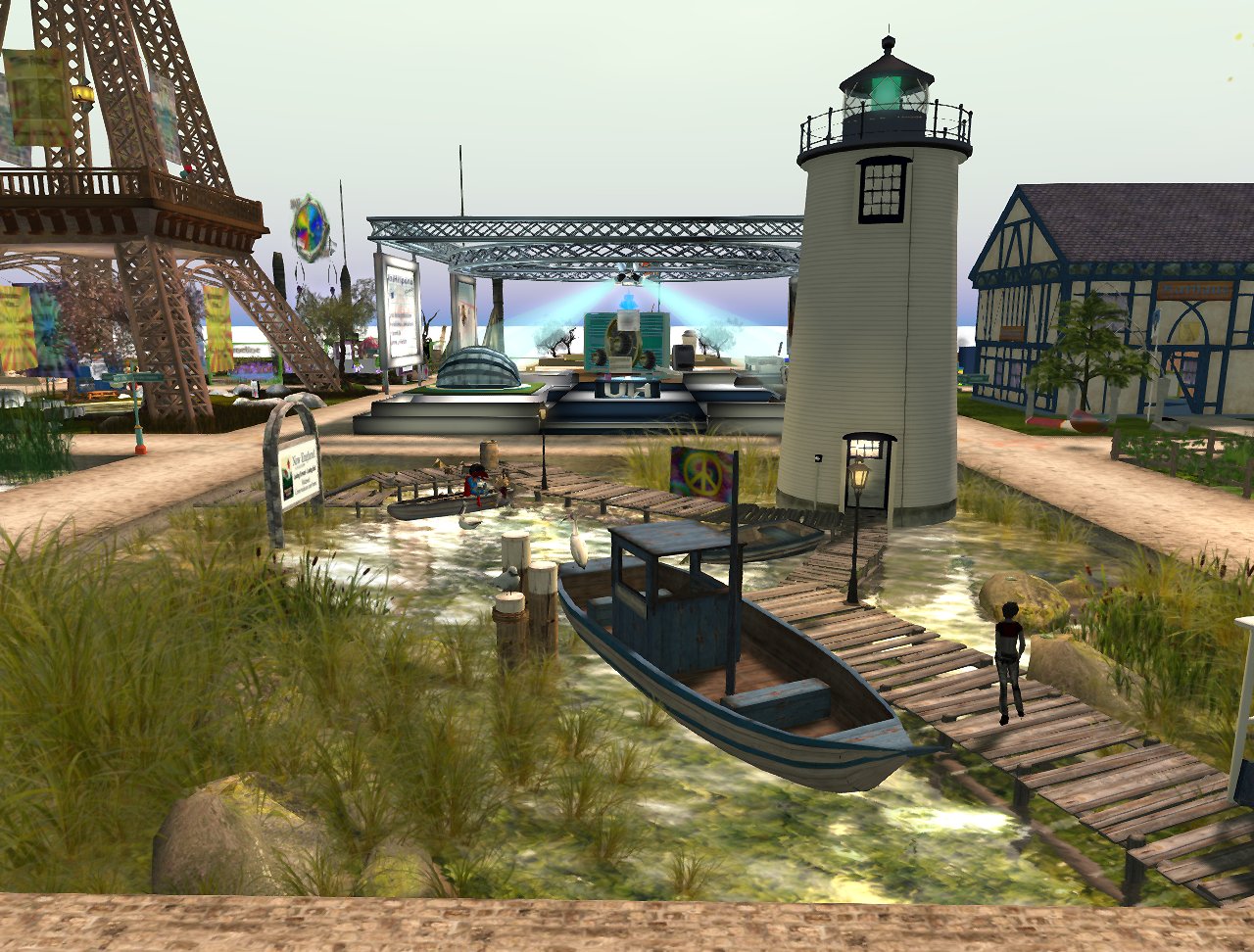 One of the rather contemplative exhibits.
Bobbekins! Another favorite of mine. And of course I went on exploring with that hopping ball for the rest of the day!
Emma had her fun too ;-)
Does this exhibit needs a caption? I don't think so ;-)
The Drow Science mainstore with Drow scientist!
...before I jumped straight into learning blender (its really been time!) and making my first mesh in...
August
Changing to meshes was perhaps the biggest step Drow Science had ever. The improvements in details and land-impact-efficiency are just spectacular!


September
Using what I have learned while making the gramophone and other mesh items for my store I designed a set of
RLV mittens
for Sunshine Technology too. While I have to say I'm proud of my design, I am
amazed
by the scripting she did for it!
October
Was again quite busy. It saw me and Emma working intensely on the gift for the
Femdom Hunt
and on my first mesh airplane, the classical biplane "Kestrel".
Our friends Vila and Antony kindly showing off our Femdom Hunt gift. The Yoke's clearly on him!
The hunt also saw the continuation of a
fun tradition
and was a welcome change from doing the final tweaks on the plane. Its good to let projects rest for a bit and then having a fresh look at them again - and it turned out very satisfying:
The Kestrel, more detail, more fun, less prims ;-)