This is a very special post for me. Not only because the
Prometheus
is the largest build I did so far. No, its also the most complex and most refined - and doesn't it looks simply great? :-)
Prometheus-Class Aircraft Carrier
We put a lot work into it since we started the project in mid February: Meshing parts, developing scripts, tweaking the design and finding the best solutions, which both save space and look good - and I think we did fine!
The Prometheus with landing strip extended.
Allow yourself to be transported back to a bygone age that never was, with the Prometheus-Class Aircraft Carrier. The Prometheus comprises a spacious hanger level with a scripted extendable runway, linked to a comfortable living quarters below and a viewing gallery above by a smooth, automated elevator. Custom built using mesh technology, the Carrier boasts excellent attention to detail whilst ensuring the whole package has a land impact of just 98 prims.

The Air Carrier can be rezzed unfurnished or with an optional main engine at the lower deck, and also comes with our steampunk-style lamp, globe, clock, a carpet, chairs and a table to help furnish your airship to a high standard. Ideal for use as a home or party venue, the Prometheus also makes a wonderful base for aerial exploration, and we've even thrown in a Steampunk Monoplane to launch from it!

Dimensions (landing strip retracted):
lenght: 43 meters
width: 27,25 meters
height: 16,75 meters

Contents:

+ Prometheus-Class Aircraft Carrier
+ Steampunk Monoplane (Guestable)
+ Steampunk Globe III
+ Steampunk Clock III
+ Prometheus Table, Chairs and Carpet
+ Steampunk Lamp
The hangar with a Steampunk Monoplane rezzed (included)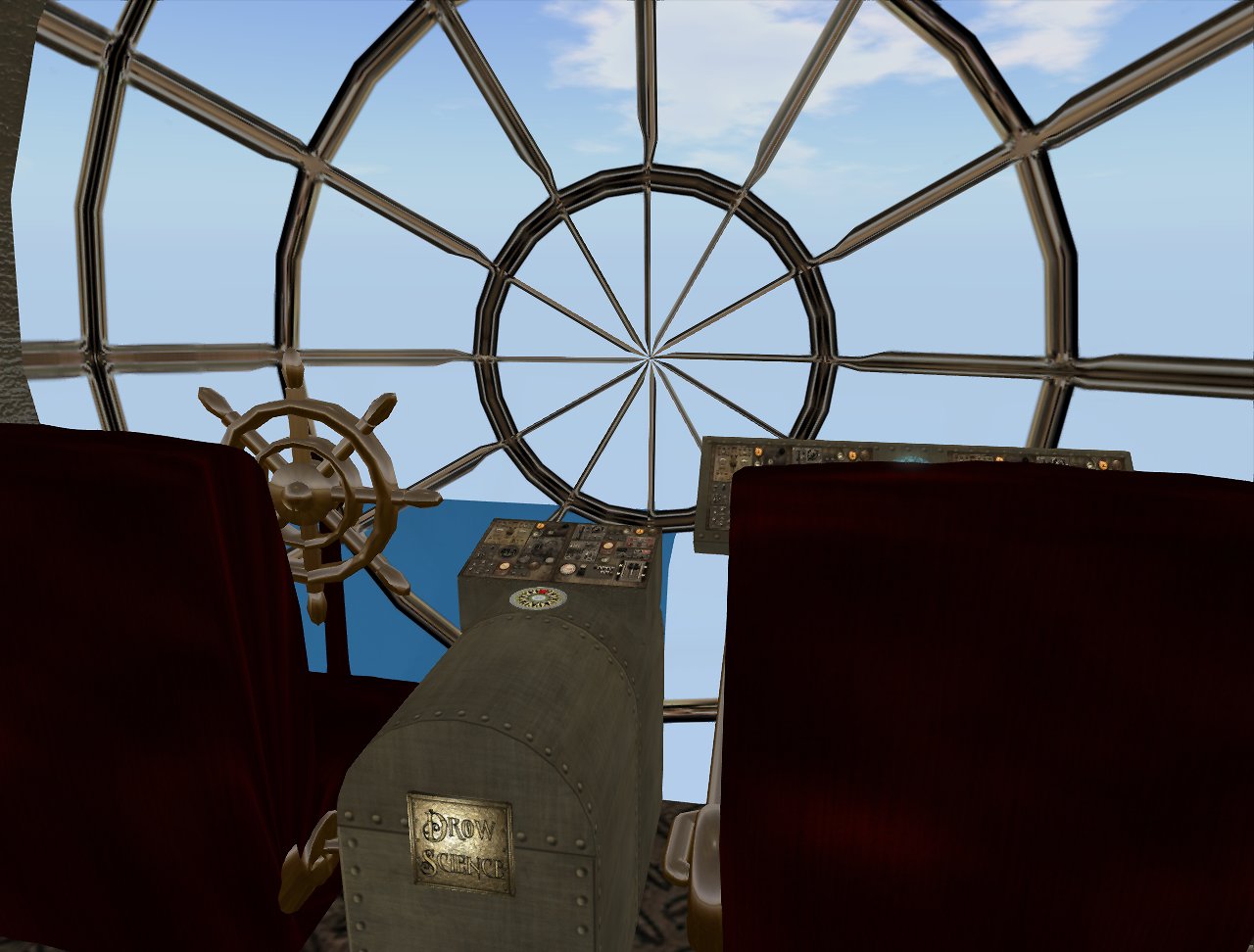 A bit of Star Wars: the cockpit.
The main engine. Fully animated with mesh belt.
It is menu-operated, with several speeds. The propeller outside change their rotations accordingly.
The engine-deck fully furnished
Ready to take-off!
The ship is currently on exhibit at
Lancaster Castle
and of course available now at the
Marketplace
.
Oh and here is a video where you can see it in action: