Sometimes the best way to find an interesting place is sheer luck. I was happily strolling over Blake Sea in my Fokker D.VII when I spotted a peculiar looking floating pirate city called
Flotsam
south of the Hollywood Airport. After finding a spot to land I started discovering the place.
It soon turned out that Flotsam is - uhm well... special... but best see for yourself:
Interesting first impression: It seems even outlaws have a court!
Authentic pirate refreshments inside. As well as...
...cells! And thats how it looks when I put you in jail.
Besides a obviously well developed judical system Flotsam of course offers everything a real pirate needs. Shops for indispensable things like prostheses, parrots and ships supplies as well as restaurants (my favorite is Mc Sushi), bars, barbershops, etc...
Flotsam is a lovely addition to the blake-sea area with many pirate-related freebies scattered around. Its also participating on the "Great Blake Sea Treasure Hunt". The HUD and information you can get
here
.
Aley (aka
Arcadia Asylum
), the creator of the place also told me about a rather uncommon feature the city has: Its actually demolishable! So don't be surprised if someone blows up the bar you were sitting in!
Fortunately the city recovers 5 mins after destruction - plenty of time to enjoy a nice little pirate apocalypse!
You can get everything you need to blow up the city at
Napoleon Blownapart
- of course for free!
Hmmmmm... bombs!
*slips a few handful grenades in her pockets for later*
Applying for a side-job at the tattoo- and barber-shop.
The 1st.. no 2nd... well 3rd Bank of Flotsam...
...and soon they will have a 4th. Perhaps its not a good idea to have the explosives store nearby.
Lets have a dinner at the two gilded arches.
I think I've seen this fellow in the terracotta army already.
An unexpected degree of nostalgia for a pirate hideout.
You won't buck off this drow, cursed Moby Dick!
Voodoo-shopping!
The underwater-part of Flotsam: Very steampunk, very lovely!
After the family came online I showed them the place too.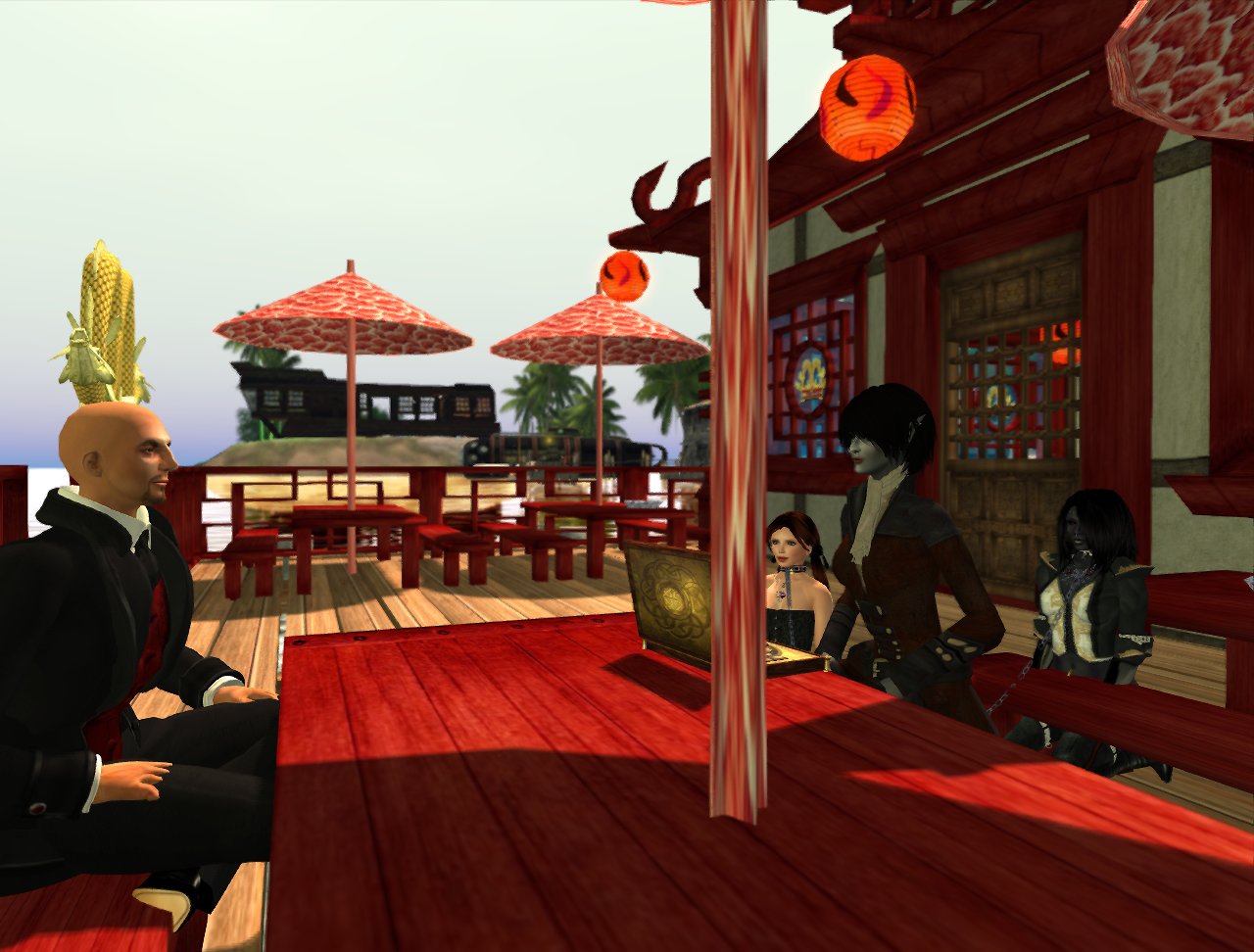 Blogging and talking about what to do next.
Great idea! Why not trying the explosives in a field test?
Hell's Angel! Luvia has the talent to find the right outfit for all sorts of places and situations.
Flotsam is indeed one of the most remarkable places I've seen in SL so far. Of course you don't need to blow up the entire city to have fun. You can literally spend hours simply by peacefully discovering or having some pirate RP - but its good to you know you actually
can
;-)
Check it out!