Its been a while since I visited New Babbage the last time. And it seems I didn't spend the attention it deserves on it. The ten (!) sims large City is truly a magnificent and exciting example of Steampunk design and architecture. Perhaps the best in SL at all. But see for yourself:
For a better overview and to really feature New Babbage in a way it deserves I decided to write a post on every single sim. Its simply too much to see for compressing it all into one or two blog posts ;-)
I started my exploration on the southeastern corner of the city, the
Wheatstone Waterways
. The canals crossing it give the place a almost venetian-like appeal. Very interesting:
The Wheatstone Waterways: One of the dominating places of this district is the distinctive "fashion temple" (it just looks the part, doesn't it?) by Blakopal.
Cute detail: The Dancefloor on top of it has not the usual dance-balls, but couple-dance-gears!
New Babbage as seen on the World Map. Its not just an aggregation of sims. Every district has its distinctive role. From industrial areas to harbors, countryside and even open sea.
Your favorite Drow posing at the southwestern corner of the city. Yes, I'm not wearing Steampunk attire this time ;-)
Directions, a greeter-bunny and a lovely steampunkomized Emma!
The canals are not only a very practical way of transportation - they look lovely too!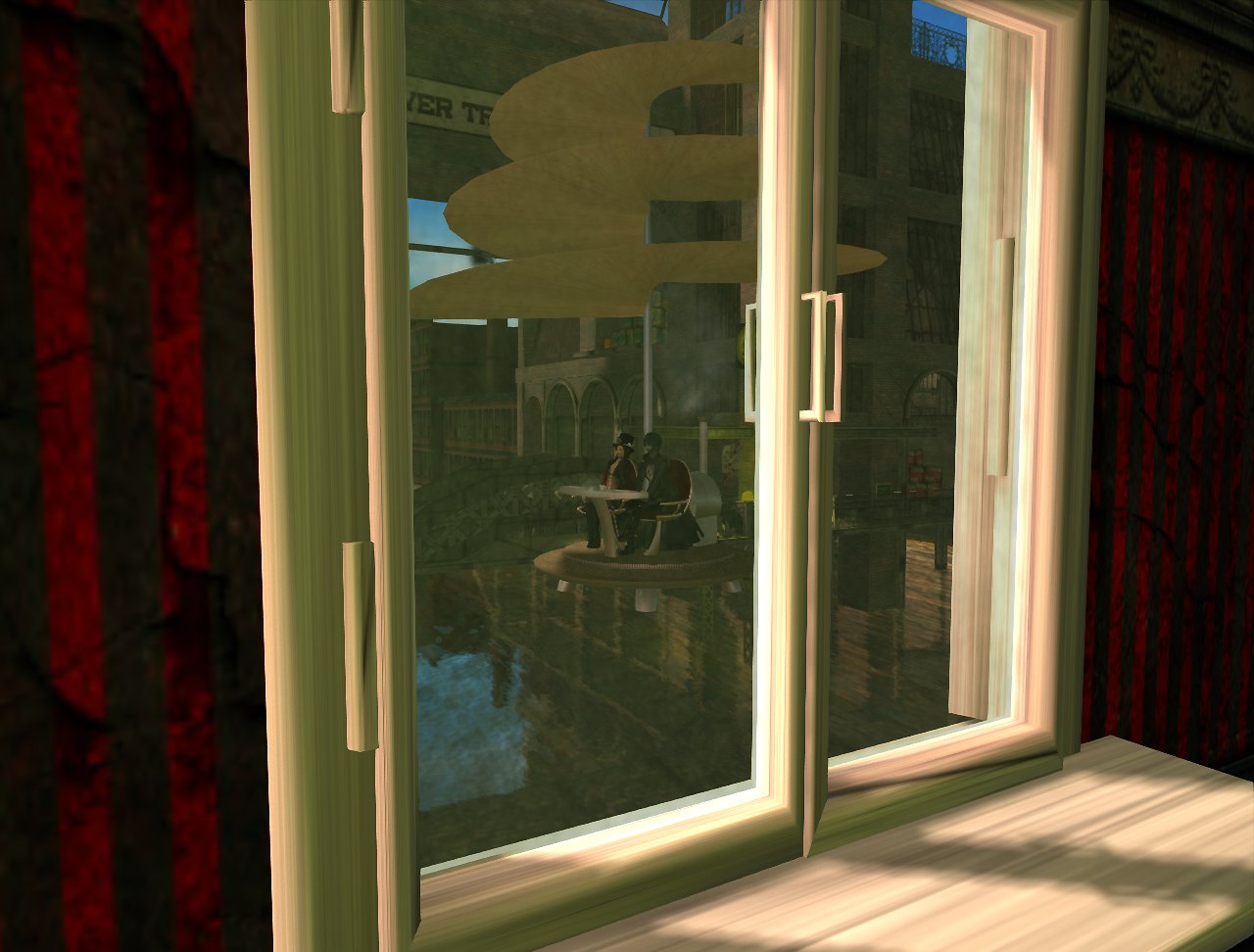 A lesson in cinematography: Shot and...
...reverse shot!
I'm sure its intended: This red chimney make this plaza looking very like venice!
Bricks! After brass, coal and wood another essential component for Steampunk architecture.
How nice! A landing pad!
A Zeppelin-hangar!
And a pretty big one too!
Drow-style posing!
Having a cup of hot, "steaming" tea ;-)
I also noticed with pleasure that city has a very active community (no surprise looking at the amount of work which was put into it!), with various RP-factions, festivals, classes and regular events. Sadly most events are happening on too late times for Europeans like me. The weekends are looking better though with activities held at euro-friendly times :-)
More coming next time. I will most likely head east to the Babbage Canals and then to the Vernian Sea!